VDL Systems makes crucial contribution to D-Blade, the groundbreaking robotic cutting machine of PIP Innovations
26 January 2021
Fresh food producers will always be dedicated to finding new ways to increase the efficiency of their processing lines. The key question is: 'With the same input, how can their processing line generate more output with the same quality?' Many suppliers of innovative processing equipment have the objective to fill in exactly this need of the fresh producers and find their partner in VDL Systems. As a stainless steel equipment manufacturer, VDL Systems helps these OEM-customers by deploying their expertise of mechanics, smart production techniques and offering them engineering and production capacity.
A wonderful example of such a cooperation is the flourishing company PIP Innovations. With their system called D-Blade, a combination of vision technology and smart robotic cutting machines, they have the answer to the aforementioned question. "D-Blade is one of the contemporary innovations in the potato and vegetables processing industry. D-Blade stands for Delta-Blade, a machine with multiple Delta-robots that can very accurately process potatoes, vegetables and fruit by for example cutting and/or portioning them," says Jeroen Pannekoek, Managing Director of PIP Innovations. "For this application, the Delta-robots in our machine are the best robots currently available in the world. This makes our D-Blade terrifically fast and very accurate."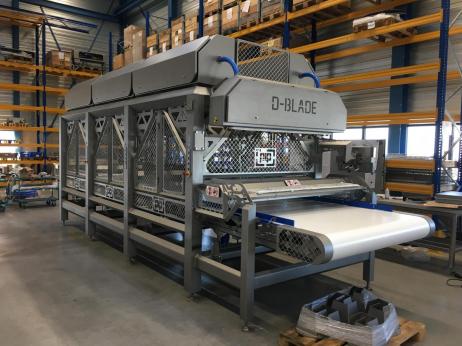 Engineering and turnkey production by VDL Systems
Prior to choosing VDL Systems as a production partner for successive machines, PIP Innovations had already developed a prototype with two cutting robots and associated software and successfully tested several machines with six cutting robots in the processing lines of fresh producer Peka Kroef. VDL Systems is an expert in developing, engineering and completely building food processing equipment. "With their network and intelligence of smart designing innovative machines, they are the perfect production partner for D-Blade. Together with our people, VDL Systems has now further developed our D-Blade prototype to a multifunctional turnkey processing line to be deployed in various food categories", says Jeroen. "Moreover, VDL Systems has proved itself to be a loyal partner with extensive expertise in engineering and building food processing equipment. We believe that VDL Systems is the ideal partner for us, principally because they haven't got any interest to sell this products to others."
Modular design
With the help of VDL Systems and its extensive in-house machine park and knowledge of manufacturing, the machine was engineered as a modular design, suitable for an enormous amount of applications and functionalities. Although PIP Innovations stands for 'Perfection in Potatoes', the first D-Blade with six Delta-robots was not deployed at a potato-processing company, but at a carrot-processing company. "This fresh producer was seeking an innovative solution for cutting the foliage from carrots in a very fast and accurate manner. Obviously, also in carrot processing 'waste reduction' is the magic word and with our D-Blade production lines a yield improvement of 20% should be within reach", says Jeroen.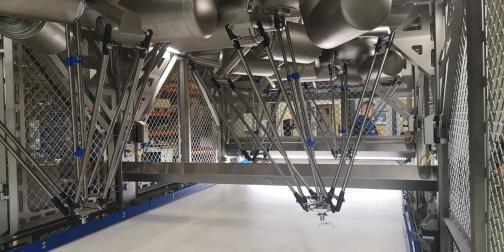 Designed for multiple purposes
The applications of D-Blade are infinite, also in other market segments in the food processing industry. So all parties expect the D-Blade to have the potential of being successful in many segments of the food industry. "By cutting only the dark spots or bad parts of a potato or carrot slice for example, instead of eliminating the entire slice from the product flow, the yield can be increased enormously. Moreover, the grippers of the robots can be equipped with tools to quickly sort or move products. The great thing is that one can exchange al knifes of the D-Blade within a time frame of ten minutes and without the use of additional tooling. Hence, when another processing task need to be executed by D-Blade, there is very little set-up time required", says Jeroen.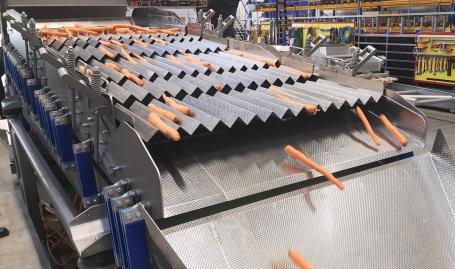 Entire production line
Also in other fields of expertise, VDL Systems was able to add value to the new machine. Although that D-Blade is a multifunctional machine, external factors such as product infeed and outfeed are crucial to the machine's success. Jeroen declares: "At the carrot processing plant, there are as many as three vibratory conveyors needed for spreading, singling and aligning the carrots on D-Blade. Subsequently, after D-Blade again a vibratory conveyor separates the cut-off foliage from the carrots. Not surprisingly, VDL Systems is the engineering and production contractor for FoodeQ Engineering and in this way VDL Systems was able to add even more value to D-Blade, in putting their expertise on product handling and vibratory conveyor technology into practice." To conclude, for PIP Innovations this machine line D-Blade is just a start, considering their plans to present even more astonishing machines to the market which all have the purpose to answer that fundamental question: 'With the same input, how can a processing line generate more output with the same quality?'
Back